Pool
The pool is just 1.1m deep throughout, making it ideal for the less confident swimmer as there is no 'deep end' to worry about. The pool hall is fully accessible and we also have a specialist pool hoist for guests with accessibility requirements.
We keep the water temperature between 29 and 30 degrees which is perfect for guests who are looking to do rehabilitation work in water, as well as for those looking to swim more intensely.
We also use chlorine-reduction water treatments and employ a UV filtration system for the pool. This means the amount of chemicals used in the pool is massively reduced, which is much better for you and the environment!
The pool, and all Burleigh Springs facilities, are available to all guests staying at Burleigh Court Hotel. (Children under the age of 16 are only allowed in between 9am - 11am & 3pm - 5pm every day.)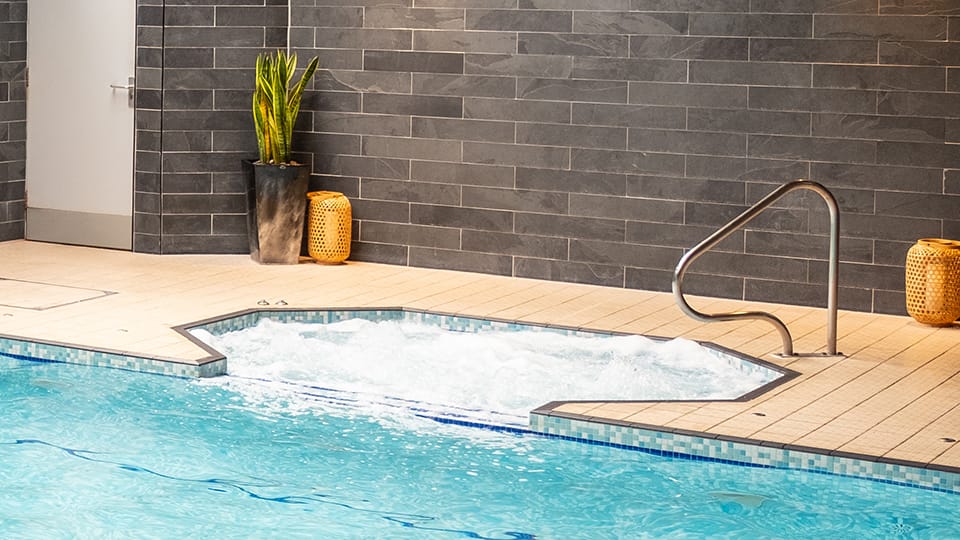 Whirlpool spa
Our whirlpool spa can assist in reducing aches, pains and muscle fatigue as well improving circulation, relaxation, stress relief and even detoxing your skin.
Sauna
Our self-dosing, dry heat sauna can improve circulation, help to reduce cardiovascular disease, help with weight loss and is a great way to kick back and relax after a workout!
Steam room
The humidity of our steam room can improve your circulation, help to lower blood pressure, reduce stress, clear sinus congestion, burn calories and loosen stiff joints.